UNM United Way Campaign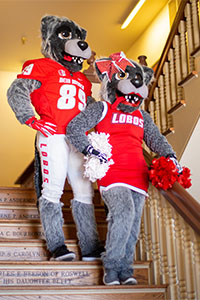 Part of what makes The University of New Mexico a great place to live, work, and study is our community spirit, our genuine concern for our neighbors, and our willingness to help those in need; it's what we do every day. We are very proud to be part of such a caring, committed, and giving team.
The partnership we have with United Way of Central New Mexico (UWCNM) is another way we give back to our community to help those in need. We recognize that charitable giving is a personal decision and that your participation in the United Way campaign is optional. We would, however, like to say thank you. With your help we raised nearly $525,000 for United Way in 2021. We appreciate the generous contributions made last year and are encouraging all our staff and faculty to consider participating this year. As our community and country struggle with the continuing challenges of COVID-19, poverty, and crime, your support and compassion have never been more critical. Every contribution counts, and every gift makes a difference. Thank you for your continued support.